Key Features
1 .Easy to use – Just one click of the button!
2 .MIDI to MP3, WAV, WMA, OGG, AAC,APE,FLAC,MP2,MP4,
M4A,MPC(MusePack), AC3, TTA, SPX(Speex), and WavePack formats in batch.
3 .It's fast, no temporary files are created during converting.
4.It can Convert a number of MIDI files using the batch converting feature.
5.It copies audio digitally from Memory. So it will get good quality mp3/audio files.
6.It runs well on all 32-bit Windows operating systems including Windows Windows 95/98/NT/2000/ME/XP/Vista/ 7



Step-by-step Guide: How to convert MIDI to MP3 with this Ease Midi Converter?
Step 1: Click here free download and install this Ease Midi Converter and then run it.

Step 2: Click "Add" button from the main interface to load MIDI files. Then click combo-box to
choose "MP3" as the output format. MIDI files will be loaded as the following picture.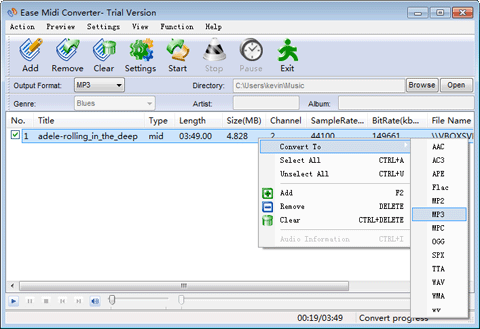 Step 3: Click "Browse" button to choose an output path or use the default path without any operation:
Step 4: Click "Settings" button.Open the MP3 Settings window, you may set any desired bitrate,
frequency, channels, etc. settings (optional).
Step 5:Everything is finally ready for the midi converter to work. At last click the "Start" button. It will start converting MIDI to MP3.
Minimum System Requirements
Processor type: Pentium
Processor speed: 100 MHz
Memory (Cache): 16 MB RAM
Harddisk: IDE
Operating system: Windows 95/98/NT/2000/ME/XP/Vista/ 7
Graphics: 16bits colors @ 640 x 480
Drives: IDE or SCSI CD-Rom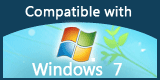 Related Products:
CD to MP3 Maker:cd ripper can rip CD to MP3, WAV, WMA, OGG, AAC, APE, FLAC, MP4, M4A, MPC(MusePack),AC3, ofr (OptimFROG), SPX(Speex), TTA,MP2 and wv(WavePack).