Guide:how to extract the sound from most video file types.

ease mp3 wav converter is a powerful and simple audio converter, It can convert many popular audio files.It can be directly convert between the following audio formats: MP3, WAV, WMA, OGG, AAC, APE, FLAC, the MP4, M4A, MPC (MusePack), AC3, WavePack.

Ease mp3 wav converter can not only convert between audio formats and can extract the audio from the video, such as avi to mp3,mpg to wav,mkv to wma, support a large number of video formats.

You may extract mp3 from avi,wmv,mpg,mkv,rm, with ease mp3 wav converter.
Supported the below video formats:
DTS Audio files (*.dts), DV video format (*.dv;*.dif), Flash Video files (*.flv) H.264/MPEG4 AVC Video files (*.mts,*.m2ts),DVD video object files (*.vob) Itunes Video files (*.m4v),, Matroska Video files (*.mkv),MPEG4 TS HD Video (*.ts) MJPEG Video files (*.mjpg,*.mjpeg), MMF files (*.mmf), MPEG Audio files (*.mpa,*.mpga,*.m2a) MPEG Video files (*.mpg,*.mpe,*.mpeg,*.mpv,*.m1v,*.mp2,*.m2v.*.mp1,*.m1v) MPEG-4 Audio files (*.m4a,*.m4b,*.mp4), MPEG-4 Video files (*.mp4,*.m4v,*.mpv,*.psp) Nullsoft Audio/Video Files (*.nsv,*.nsa), NUT Files (*.nut),Quick Time files (*.mov,*.qt) Raw H.261 files (*.h261), Raw H.263 files (*.h263), Raw H.264 files (*.h264,*.264) Real Media files (*.rm,*.rmvb),TP Video files (*.tp) Video CD files (*.dat), Video Transport Stream files (*.ts), YUV Video files (*.yuv)




Introduction of ease mp3 wav converter
Step-by-step Guide: How to convert flac to wma with this ease mp3 wav Converter?

Step 1: Click here free download and install this Ease mp3 wav Converter and then run it.

Step 2: Click "Add" button from the main interface to load video files. Then click combo-box to
choose "MP3" as the output format. Video files will be loaded as the following picture.




Step 3: Click "Browse" button to choose an output path or use the default path without any operation:

Step 4: Click "Settings" button.Open the WMA Settings window, you may set any desired bitrate,
frequency, channels, etc. settings (optional).

Step 5: Everything is finally ready for the audio converter to work.At last click the "Start" button. It will start converting

wma Settings:



flac settings


mp3 settings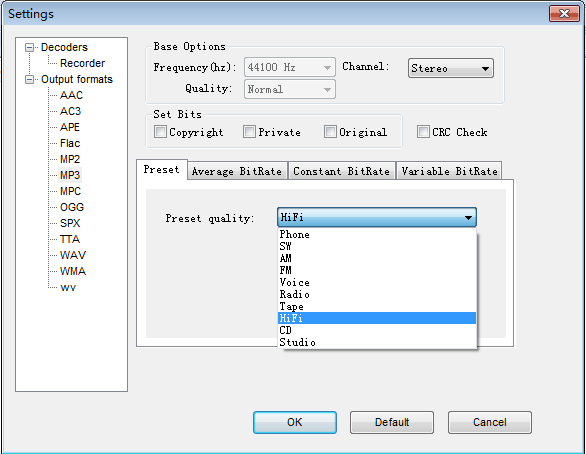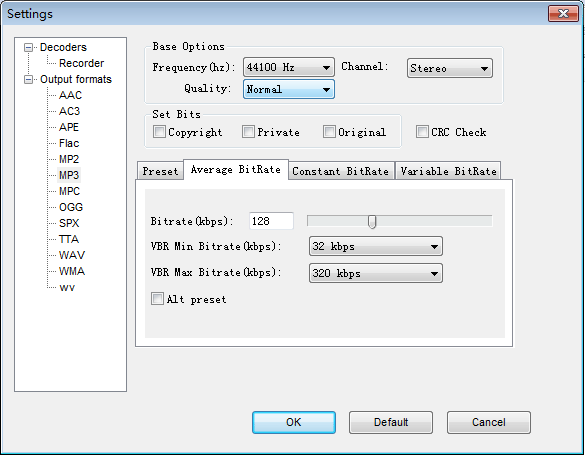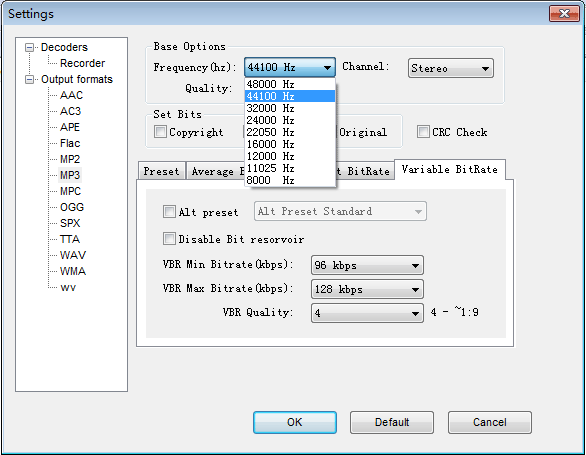 Ease MP3 Converter:

mp3 converter,wma converter,aac converter,wav converter,ogg converter,mpc converter,
flac converter, tta converter,wv converter,ape converter,tta converter,spx converter,
ac3 converter,m4a converter