Ease MIDI Converter is a fast audio utility that allows you to convert MIDI to wma, WAV, WMA, MP3,OGG, AAC ,APE,FLAC,MP2,MP4,M4A, MPC(MusePack), AC3, TTA,SPX(Speex) and WavPack formats in batch.

The MIDI converter can quick convert the MIDI file into an audio format that you can burn on an audio CD and play on a regular CD player. High quality SF2sound fonts available for karaoke or midi rendering.

An essential difference between Ease MIDI Converter and other similar midi converter is that Ease midi conveter can convert midi to mp3 on-the-fly in real time without sound recording.It copies the audio digitally-not through the soundcard-which enables you to make perfect copies of the originals.

The main advantages of Ease MIDI conversion are the CD audio quality, the conversion speed and the silence during conversion.
Key Features
1 .Easy to use – Just one click of the button!
2 .MIDI to MP3, WAV, WMA, OGG, AAC,APE,FLAC,MP2,MP4,
M4A,MPC(MusePack), AC3, TTA, SPX(Speex), and WavePack formats in batch.
3 .It's fast, no temporary files are created during converting.
4.It can Convert a number of MIDI files using the batch converting feature.
5.It copies audio digitally from Memory. So it will get good quality mp3/audio files.
6.It runs well on all 32-bit Windows operating systems including Windows Windows 95/98/NT/2000/ME/XP/Vista/ 7



Step-by-step Guide: How to convert MIDI to wma with this Ease Midi Converter?
Step 1: Click here free download and install this Ease Midi Converter and then run it.

Step 2: Click "Add" button from the main interface to load MIDI files. Then click combo-box to
choose "wma" as the output format. MIDI files will be loaded as the following picture.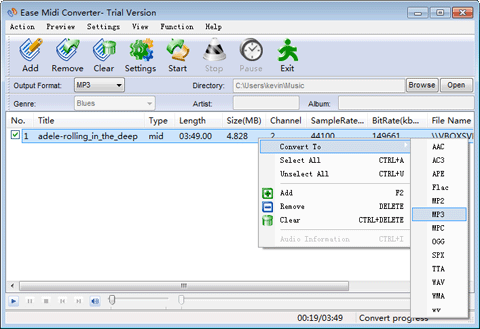 Step 3: Click "Browse" button to choose an output path or use the default path without any operation:
Step 4: Click "Settings" button.Open the wma Settings window, you may set any desired bitrate,
frequency, channels, etc. settings (optional).
Step 5:Everything is finally ready for the midi converter to work. At last click the "Start" button. It will start converting MIDI to wma.
Minimum System Requirements
Processor type: Pentium
Processor speed: 100 MHz
Memory (Cache): 16 MB RAM
Harddisk: IDE
Operating system: Windows 95/98/NT/2000/ME/XP/Vista/ 7
Graphics: 16bits colors @ 640 x 480
Drives: IDE or SCSI CD-Rom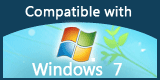 Related Products:
CD to MP3 Maker:cd ripper can rip CD to MP3, WAV, WMA, OGG, AAC, APE, FLAC, MP4, M4A, MPC(MusePack),AC3, ofr (OptimFROG), SPX(Speex), TTA,MP2 and wv(WavePack).